A friend asked me a while back if I thought having a degree from Austin College has helped me. I told him in some ways yes and some ways no. That may be a strange sounding reply but that's just what I think. After attending different colleges I wanted to prove to myself that I could finish college. My parents provided me a nice education so I sure didn't want to let them down. I worked in my family's furniture store for years which I probably would've done with or without a college degree, however if I had moved away to work for a large company my degree could've helped.
One regret I do have is that my parents are not here so I could thank them again for all they did for me. I'm sure I told them but probably not enough.
Some people have the mistaken idea that a college degree can be the answer to nearly everything, that's surely not the case. A college degree might help get a person in the door as far as being employed but you still have to learn the company and the job. How far you advance is up to you. Nobody owes you anything.
My first course in college was right after I graduated from high school. It was a summer course at Austin College mostly about writing business letters, but it also included some instruction in writing term papers, stories, etc.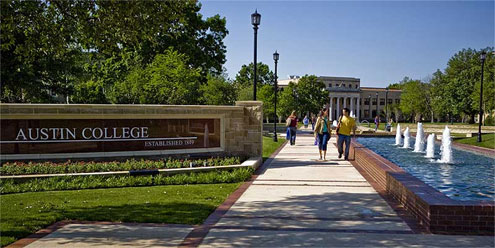 My first away-from-home college was Hendrix College in Conway, Arkansas. In many ways it is a lot like Austin College only it is affiliated with the Methodist Church and AC is affiliated with the Presbyterian Church. Both schools are highly ranked and certainly not easy. I wonder how did I end up at either one? I made some really nice friends at Hendrix that I remember to this day. At the time there were probably only four or five towns in Arkansas that were larger than Sherman. Several of my friends thought of me as the new kid from the big city in Texas, however now the population of Conway is around 25,000 more people than Sherman. 
I remember a lot about Conway, however if I ever get back there I know it will look nothing like I remember. A fond memory I have of being in college in Arkansas is when I attended an Arkansas Razorback football game in Little Rock with two or three of my Hendrix classmates. In Arkansas you don't have to travel too far to find a fan of the Razorbacks.
I made some good friends in college, however they are nothing like the friends you make in the town where you grew up. Some high school classmates you were with for twelve years; college classmates you may go to school with for only four years.
As I said before, both AC and Hendrix are not known for being easy. I remember seeing a lot of students at both places that seemed to be super intelligent but some seemed to have no common sense. I think one without the other doesn't help all that much. College is not really easy for anyone, however by having good common sense, studying hard, and being really determined, most students can succeed. 
I made some really good friends at Hendrix, however as I look back I think the main reason I left after one semester was that I was just homesick. I was born in California, but two weeks after I was born my parents moved back to our hometown of Sherman and I had no choice but to tag along, so this is home. I don't have a desire to live anywhere else. The only  time I even halfway thought about living far off was when I was considering going to UCLA for college. I've always had an interest in police work so I had the LAPD mail me some information in case I decided to stay. I thought it might be fun for a change, however Hendrix is 321 miles away and UCLA is 1,409 miles away. If I got homesick in Conway, Arkansas, I really would've gotten homesick in Los Angeles.
Having a college degree will hurt no one. It was important years ago and, with the advancements in technology today, I feel like there may now be an even greater need for a degree or at least a trade school. The Sherman Ex-Student's Association does a lot of good for area students and one of the many ways is through a program called HOPE. That stands for Helping Others Pursue Education, a very worthwhile program. Scholarships are awarded to Sherman graduates who are otherwise academically qualified for college but simply can't attend for financial reasons. It helps many graduates to pursue their education further than they thought they would be able to.
Many years ago, college graduates were actually given their diplomas on real sheepskin. That doesn't happen today. A classmate's father told my friend Sam and me many times that we needed to go to college so we could get those sheepskins. We were both proud when we did get our college diplomas even if they weren't on sheepskin.
There have been some very famous and wealthy people who never finished college and many not even high school, however those are the rare exceptions. I remember hearing in 1975 when the pet rock came out that the man who thought it up made four million dollars from his invention. I thought that I could've invented that, but I didn't and hindsight is always 20-20.
It's probably best to get as much education as you can; it certainly will not hurt anything as the advantages will be greater than the disadvantages.
The late comedian Nipsey Russell said it in a very unique way, "Play it cool, stay in school. Stay until you are through, if they can make penicillin out of moldy cheese they can make something out of you."  
If you have any comments or questions my e-mail is [email protected].