July 16, 2021 |
: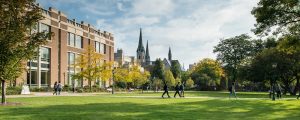 To meet the growing need for child and adolescent clinical mental health counselors, the United States Department of Health and Human Services gifted $980,000 to Marquette University's College of Education.
Through the funding, 62 students in the Department of Counselor Education and Counseling Psychology will receive internship stipends until 2025 to complete clinical placements in high-need areas in Milwaukee, Wisconsin. The project aims to provide access to services in underserved communities by strengthening the behavioral health care pipeline, the university reported.
"The emphasis of this program is building strong collaborations with community partners and supporting the needs of the community by offering free, quality needs-responsive professional development seminars and supervision training," said Dr. Heidi Bostic, dean of the College of Education and the Klingler College of Arts and Sciences.